Sale graduates win four Indiana Sires Stakes finals at Indiana Downs
Hoosier Classic Yearling Sale graduates were well-represented Saturday, September 10 at Indiana Downs. The Shelbyville oval played host to its $2 million Super Night program, with graduates having a big say in the events. All told, four Hoosier Classic graduates reached the winner's circle in $200,000 finals.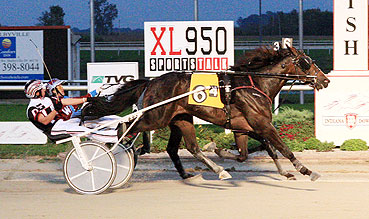 Summit City Earl holds off Trottin Tiger to win at Indiana Downs.
Cincinnati Star, a 2010 graduate, began the parade of winners, taking the first final on the 14-race card. Driven by Trace Tetrick, the favored Cincinnati Kid filly won the $200,000 final in 1:59.2. Bred by Double Spring Farm, the filly improved her record to eight wins in 12 starts for trainer Steve Carter. Cincinnati Star is owned by Peggy Carter, Sheila Hummel, Robert Reid and Great American Stables, LLC. So far this season, the filly has earned $175,810.
Summit City Earl was the next graduate to win in Indiana Sires Stakes competition, narrowly defeating favorite and fellow Hoosier Classic grad Trottin Tiger in a time of 1:59.3. Sent off at 50-1, the Earl Of Stormont gelding was driven by Jason Dillander. Bred by Melvin Schmucker, Summit City Earl is owned by trainer Byron Hooley's Summit Pacing Acres. The fifth victory in 12 starts, Summit City Earl had earned $137,510 in 2011.
Sophomore pacing filly Pacific Sun Rae scored an impressive 1:53.3 victory in the $200,000 Indiana Sires Stakes final Saturday evening for trainer Alvin Miller. The Panspacificflight three year old, bred by Duane Miller, collected her fifth seasonal victory. A winner of more than $190,000 in 2011 and $246,407 in her career, Pacific Sun Rae is a 2009 graduate. She was driven to victory by Trace Tetrick.
Dream Kid completed a sweep of both Indiana Sires Stakes finals for three-year-old trotting colts this season with a 1:56.3 triumph Saturday night at Indiana Downs. The Burke Racing Stable pupil turned in a lifetime best effort in the win, raising his career earnings to $490,442. Bred by Devon Beachey, the Cincinnati Kid colt was driven to victory by Ricky Macomber Jr.